Beyond the features and facilities of SAP B1 itself, the licensing model provides users with a level of flexibility and configuration capabilities that allows them to maximise on their SAP B1 software investment.
However, with this flexibility comes a level of complexity. SAP B1 users need to make informed decisions about the right solution and licence arrangement for them. The best approach is to evaluate:
Which licence type is the best for your business?
How can you decide if a perpetual or subscription approach to your SAP B1 licences is right for you?
If you choose subscription can you move to perpetual in the future?
So, let's explore these answers and you can find out which SAP B1 licensing will work best for your business.
SAP Business One license types
When it comes to SAP B1 licensing, users have two broad avenues to go down.
The first is Perpetual Licensing for SAP B1. This refers to an up-front investment which effectively means you own the software and can use it for years to come with no further costs – other than support and maintenance.
The second option is Subscription Licensing for SAP B1, which involves an annual renewal cost if you want to continue using the software.
There are a couple of misconceptions around this that are important to clear up. Some people assume they can only use a subscription when they're accessing a multi-tenant cloud infrastructure. However, this is not the case – this licence type is available from SAP regardless of how the software is deployed. That includes both on-premises and private cloud-hosted deployments.
Others might simply be unaware that a subscription licence model is even available for SAP B1 with the same level of functionality. In fact, the subscription licence model has been available for more than four years. In that time, it's steadily grown in popularity year-on-year, with 2020 seeing a particular acceleration in new users choosing subscription over perpetual. With SAP being all about flexibility, it could well be the case that this accelerated trend will plateau out at some point to be 50-50 for each type of licence.
What's right for me?
In truth, there is no right or wrong approach. Instead, it's about finding what's right for your company, which will depend on your culture and overall business plan for the next 5 years. What's important is that you're not corralled into a rigid, one-size-fits-all licence model which will feel like a straight-jacket in years to come.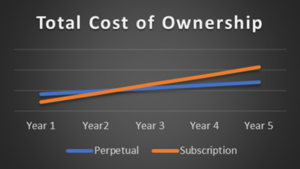 Consider the example above. In year 1, the subscription licence costs plus the required support and maintenance (Opex investment) might typically be around 50% of the investment required for a perpetual licence (Capex Investment).
However, by year 5, the picture has reversed. The total cost of ownership for subscription software licences plus support and maintenance has risen to around 150% of what you would have spent on perpetual software licences.
If you choose a subscription, there's nothing stopping you from moving to perpetual licensing in the future. It simply means you'll be waiting longer before moving to the model that's potentially more cost-effective over time.
SAP B1 for mobile
Another thing to think about when it comes to SAP B1 licensing is the now-mature mobile network. Being able to provide and receive key data back from field workers has become increasingly important for companies in various sectors, such as those servicing vital infrastructure all over the UK. So much so, that one of the major requirements for digital transformation projects is having cost-effective and flexible software licences for users that work remotely with mobile devices.
Thankfully, all this functionality can be accessed using the SAP Business One Mobile App licence. While this is something to factor into your licensing decision, it's not restricted to either subscription or perpetual models. Again, it's about considering your business plan and overall approach to determine which investment is best for you.
A transparent approach to SAP B1 prices
A key part of our consultation is helping potential SAP B1 users make informed decisions and figure out exactly what will work best for their business.
You'll need to consider how company accountants will report the expenditure for the different investment models on the company accounts. Any immediate capital investment will be seen on the balance sheet straight away, for example.
On top of that, we'll dive into the extra financial considerations you might not have first thought about. We'll highlight the benefits of any potential government grants, plus the finance and lease options for perpetual licences (Capex) and the possible benefits you could get from the HMRC Annual Investment Allowance (AIA).
Demystifying SAP B1 licensing
If you need help understanding the best options for SAP B1 licences to streamline costs, get in touch with our Business Advisory Team – we'll guide you through the whole process to make sure you're making a fully informed decision about your SAP Business One license investment.